I finally went and got some spring compressors from Halfords. The car was on axle stands, so I set about taking the passenger side shock absorber off. One bolt came out, the other just spun. An hour later it was still in there. I could have ground it off, but I'd have to drill the rest out and tap it. And I was determined not to.I ended up with a claw hammer wedged in between it and the bottom arm, pressing it with my foot, and after another half hour with the ratchet. But it came out. I think it's been overtightened with an air gun or something in the past. With the shock out, I put one of the compressors inside the spring. The jaws are too wide to go between each section of the spring, so I had to force it in as best I could.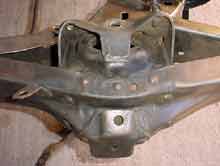 I got it to bite eventually, but couldn't get the other one on as well. I got it as tight as I could with a spanner, and jacked the suspension up with a trolley jack to help compress the spring. I did the last few turns of the bolts from as far away as I could reach. Just as well as it all popped quite violently off. Mental note not to do the same with the other side!. With the hekp of my new best toy, the grinder brush and a chisel I soon had the frame down to bare metal.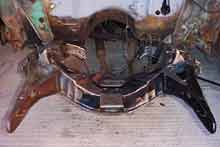 The firewall had some light rust on it from bare metalling it the week before, so I gave it a quick once over with the drill wire brush, washed it down with white spirit and gave it a quick spray with some primer. Another mental note to do things in sequence. That was it for the weekend, as I had to do family stuff as well. The following weekend, I finally decided to get my own socket set and give my Dad his back at last!.
The other side needed stripping, and with my new Teng socket set, it came off in about an hour! (I used both compressors this time!). Another few hours of cleaning and degreasing and it was time to get everything painted. Shiny black paint doesnt photograph well, so it's not too exciting to look at for you, but I'm happy!